Nancy Deroko and Johnny
Johnny was a stud dog here at Serafina and he sired many wonderful puppies. We retired him and Nancy adopted him. Now he works giving joy to children and adults who are hospitalized. He is a licensed therapy dog and he loves his work.
Valerie and Rachel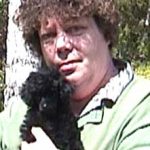 Dear Margaret,
Rachel is now two years old and she is that rare love-of-my-life dog I had searched for Thank you!
She is so happy to be around me…..and smart? I swear, she shows me the tricks that she can do and its so funny. Her favorite trick is to jump straight up into the air and have me catch her. She "helps" me feed the squirrels and blue jays. And she gently supervises the cats into lesser positions when I sit down on the couch to watch TV……. she always gets the exalted place of honor in my arms or on my lap. I even enjoy her wake up call, a cold nose on my closed eyelid 🙂
What a joy she is to me. I think you are the best breeder in Northern California and just wanted you to know.
Sebastian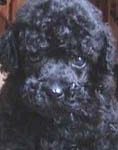 Hi Margaret. Sebastian is great and says hello. I took him to the vet yesterday and bought a "puppy plan" which covers all his shots, deworming, visits, etc. for his first year. I talked to the vet about the Leptospirosis and we are not giving it to him until he is 6 months, if then. The vet says he looks very healthy so all looks good.I have mixed his food with Science Diet puppy formula and he loves it. I amweaning him onto the Science Diet.
I also got him goats milk but only give him about a tablespoon a day. Is that right or should I give him more or less? He has gone to work with me every day and been a doll. When he has to poop,he whines and I put him on paper and he goes. But we are working on thepeeing. I bought him a doggie diaper which is denim and you put the pads inside so you can take him out in it to avoid accidents. He peed on me yesterday at work, so that is what gave me the idea. I bought him a doggie taxi/pen and a wonderful bed with pillow but he sleeps with me on the pillow next to me. He wakes up about 3:30a.m. and wants to play but I see if he has to go potty and make him go back to sleep. He is soooo good !I also bought him a Harley Davidson sweatshirt and the cutest fleece zip up jacket he wears when we go out so he stays warm. I will have to take pictures of him dressed and send them to you. So as you can see, he is spoiled rotten and will continue to be! LOL We love him so much. I took a picture of him and his teddy bear yesterday and have attached it in this email. I will continue to update you. I will ask my friend who owns a reptile store about your tortoises and let you know.
Take care and thanks so much for my new baby!
~Margo
Vanesa and Jac
Dear Margaret,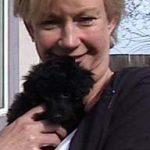 Just wanted to take a moment to tell you how happy Jac (pro: Jake but short for Jacques) and I and kitty Sammy are together. I'm sure every proud mama says this but, Jac is truly exceptional!! He's so, so smart and possessesthe sweetest dispositon possible. He's met all the neighbors and they're as hooked as I am… we've never had so much neighborhood interaction as has been brought on by this little guy!
It took him 4 days to climb the staircase and 2 more to bound down it! He and Sammy are such good friends and chase each other in a good natured way around the house like mad, playing for hours on end (good for both). My Husband, David gets daily updates as he's still in Asia and he's so excited and amused by the endless stories of "what Jac learned/did today"! I've taken a bunch of pix and will get them to you soon. Meanwhile,
wanted to be sure you knew how much this little guy is loved. He's just the lightof my life (I think he likes me a bit too!) Thanks and take care – we'll be in touch! V.